Por: Por Tatiana Maillard
El artista australiano y su banda, The Bad Seeds, tocarán la noche de este martes 19 de febrero por segunda ocasión en el Plaza Condesa —y en México—, con motivo de la presentación de su décimo quinto álbum, Push the Sky Away.
Ayer por la mañana el cantante, compositor, escritor y guionista estuvo en el Museo Universitario del Chopo, donde conversó con poco más de 200 personas en el Foro del Dinosaurio, acompañado por el editor de Sexto Piso, Diego Rabasa, y el locutor de Reactor 105, Raúl David Vázquez, Rulo.
I
Santo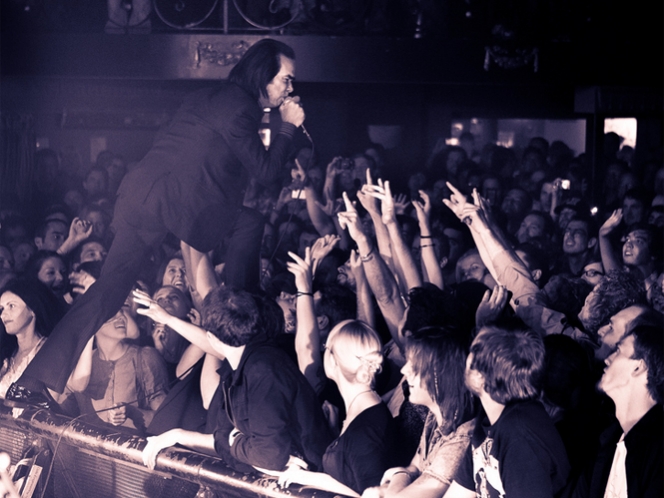 Nick Cave se presentó la noche del lunes 18 de febrero por primera vez en México. Fue en el Plaza Condesa, acompañado de su banda, The Bad Seeds, con taquilla agotada. Adentro, una marabunta de poco menos de 2 mil personas tapizaron el lugar. Afuera, los precios de la reventa alcanzaron hasta mil 500 pesos.

Adentro, a las 21 horas, iniciaron los primeros acordes de We Know Who U R, la canción que abre el último disco de Cave, Push the Sky Away. Y lo que ocurrió a continuación constituyó la liturgia del concierto.
El frontman de The Bad Seeds es cristiano. Y por ello, referencias místicas enriquecen su poética de tintes oscuros… a veces infernales. Pero lo que sucede ahora mismo, cuando Cave se acerca a la audiencia ubicada al frente del escenario, remite a una alegoría: abajo, las manos se extienden, con los dedos encrispados, tensas por el esfuerzo para alcanzar, tocar, aferrarse a la mano del que está arriba, es decir, de Cave, quien rodeado de tantas extremidades sin rostro, asemeja a un santo que recibe plegarias desesperadas de las almas que purgan sus penas.
Es un santo con facha de dandy, vestido de riguroso negro desde el cabello hasta los zapatos. En una mano sostiene el micrófono que amplifica su desesperada, susurrante, catártica voz, y con la otra responde al tacto de las manos anónimas que forman un estrecho cerco alrededor de él. Tras la figura de Cave, al fondo del escenario, están

The Bad Seeds: Warren Ellis (violín), Martyn Casey (bajo), Barry Adamson (quien sustituye a Thomas Wylder en la batería), Jim Sclavunos (percusiones)

y

Conway Savage (teclados); son quienes acompañan en los coros a Cave. Es eso, los coros, las manos, la música, la distinción sonora de cada instrumento, la sombra de Cave proyectada y amplificada sobre la pared, lo que brinda al momento cierto barniz de teatralidad, de evocación a lo celeste o lo inframundano, pero no a lo terrenal.
II
¿Ha recibido mi carta, señor Cave?
Horas antes del concierto de Cave en el Plaza Condesa, el cantante se presentó en el Museo Universitario del Chopo, en una charla gratuita ante unas 250 personas. Conducida por el editor de Sexto Piso, Diego Rabasa, y el locutor radiofónico, Raúl David Vázquez, conocido como Rulo, la charla se centró en su carrera musical y literaria.
Cave ha escrito dos novelas: And The Ass Saw the Angel y The Dead of Bunny Munro (editada en México por Océano); ha realizado algunos guiones cinematográficos (Ghost of the Civil Dead, The Proposition y Lawless), y ha actuado en películas, como Las alas del deseo, de Wim Wenders o El asesinato de Jesse James por el cobarde Robert Ford, de Andrew Dominik. Después de un par de preguntas sobre la escritura, sus procesos para componer y las alegorías en sus canciones, Nick Cave choca las manos al tiempo que pide comenzar con las preguntas del público.
—Es mucho más divertido —dice. Y cada palabra es traducida simultáneamente a través de los audífonos con los que cuentan los asistentes.
Cave es un australiano de gestos refinados, ligeramente irónicos. Sentado en medio de los entrevistadores, vestido de un traje sastre impecable y lentes oscuros que cuelgan de su camisa desabotonada, escucha a Rabasa leer algunas de las preguntas que el público ha anotado en tarjetas. La dinámica funciona por algunos minutos, hasta que la gente se turna para preguntar directamente y en voz alta, sus dudas.
—¡No tengo boleto para su concierto esta noche y quiero asistir! ¿Qué hago?
La voz proviene del fondo del Foro del dinosaurio, donde se realiza la conferencia. Cave se encoge de hombros y extiende las palmas frente a su torso.
—¡Qué mal, amigo!

Yo… —Cave guarda silencio escasos dos segundos, su boca se tuerce— …Yo no sé qué hacer. ¿Tienes una guitarra a la mano? Podría cantarte una canción ahora mismo.
—¡Señor Cave! Yo no tengo una pregunta —la que habla es una sonriente chica vestida de negro, con unas orejas de gato de peluche a cada lado del cráneo—. Sólo quiero agradecerle por hacer mi vida mejor.
Ante la lluvia de aplausos eufóricos y la sonrisa de los integrantes de la mesa, la chica eleva más su voz para hacer una petición:
—¡Por favor! ¡Permítame enseñarle mi trabajo!
Muy bien. Siguiente pregunta
Detrás de la chica-gato, hay un joven con enormes audífonos reposando sobre sus hombros que se dirige a los entrevistadores.
—¡Yo tengo algo qué decir! ¿Podrían ayudarme a traducirlo para el señor Cave?
Antes de que Rabasa y Rulo asienten, el chico, con una emoción desbordada, pregunta:
—Señor Cave… ¿Ha recibido mis cartas?
Tras meditarlo durante dos segundos de silencio, los ojos azulados de Cave se abren en una especie de sorpresa, como si acabara de reconocer a un viejo conocido de quien de vez en cuando recibe noticias a través del correo.
—¡Así que tú eres el mexicano!
III
Profesión: Rockero con actividades extracurriculares
Si el intercambio directo entre público y artista es la parte divertida de las charlas, previamente hay que atravesar el sendero de la seriedad. Nick Cave vino a México para presentar su décimo quinto álbum con The Bad Seeds. La charla entre los presentadores y el artista inicia con una cita de Julian Barnes sobre la escritura… y una explicación por parte de Cave de sus propios procesos.
—Para escribir escojo un día en particular. Puede ser el uno de marzo, a las dos de la tarde. Ese día me encierro en mi estudio y me dedico sólo a escribir. Si aquello que redacto me hace sentir ansiedad, entonces sé que está bien.
Sobre su incursión en otras áreas artísticas, Cave interrumpe la pregunta, lapidario:
—Yo escribo canciones con The Bad Seeds… el resto de las cosas que hago, son extracurriculares. Sí, quiero a mis novelas, pero al final de cuentas, únicamente tengo dos. Más bien soy un cantante de rock… que ha escrito dos libros.
También se ha involucrado en los guiones cinematográficos. Cuando se le plantea, Cave retuerce su cuerpo discretamente.
—Escribir guiones es un trabajo de perros. No se lo recomiendo a nadie, a menos de que vayan a dirigir. En realidad no me gusta escribir guiones. Lo hago porque necesito retos y desafíos. Así que escribes un guión, pero créanme que después de involucrarte seis meses con Hollywood, regresas corriendo, gritando y muy feliz, a escribir música.
El regreso de Cave tardó cuatro años, desde el último álbum Dig, Lazarus, dig!!! (2008). Esta noche, se presenta por segunda ocasión en el Plaza Condesa, a las 21 horas, antes de continuar su gira en Los Ángeles y de vuelta a Australia.
De México, dice, no ha tenido oportunidad de conocer gran cosa:
—Llegamos a México y mi banda se enfermó. He estado en cama dos días donde, lo único que he visto, ha sido a una afanadora y un desayuno horrible. Pero tengo grandes anécdotas de Tijuana. Las estoy guardando para mi tercer libro. Quizá lo titule: Tijuana, te amo.