Por Luis Arce (@lsfarce) /// Fotos: BigIdeas (OzCorp)
Sería fácil hallar las consecuencias de una visita tan inesperada como la de Dead Can Dance. Recreación de las expectativas en torno al lanzamiento de Anastasis, reintegración de DCD en el grupo de bandas esenciales que debían ser vistas este año y una búsqueda intempestiva de varias personas por hallar los pedazos más oscurecidos de su adolescencia, ya en forma de cadenas, ya en forma de ropita dark.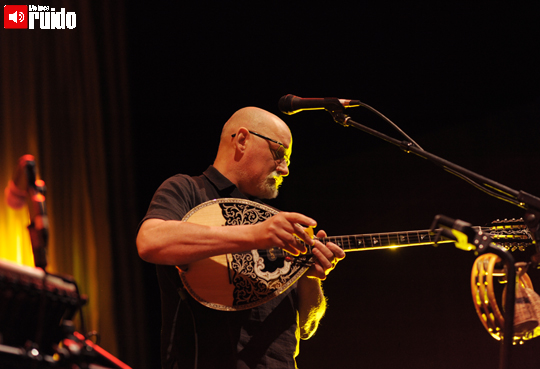 No hay otro remedio contra esto, excepto atender a Dead Can Dance como una agrupación que se constituye más allá de las etiquetas que generalmente le designan. Por supuesto, existe una creatividad muy afincada en los estilos que DCD ejecuta, pero es el componente menor de lo que vemos sobre el escenario. El estilo, aunque cuidado, es sólo una herramienta sedentaria para instrumentaciones plenamente nómadas.
Como su instrumentación o melodías, la música de DCD emigra con severa libertad por un escenario y un público poco preparado para esta clase de puesta en escena. Aunque gran parte de la audiencia estuviera dispuesta a escuchar con diligencia, lo que sucedió anoche fue las dos cosas: una escenificación más o menos predecible en torno a Anastasis y un espectáculo como ningún otro. Nadie lo esperaba.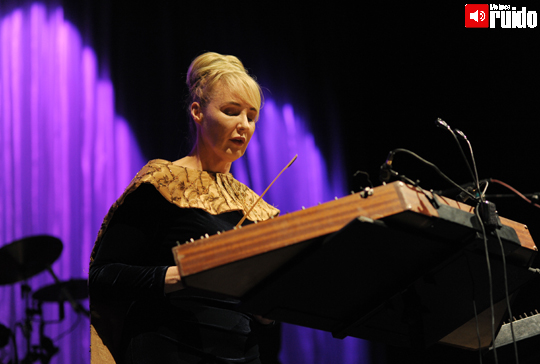 En principio, muchos pudieron encontrarse sorprendidos por un Plaza, que no sólo tenía sillas, sino que tenía filas numeradas y asientos reservados. Un verdadero extraño, pensarán los incautos. Pero en el caso de DCD, desde el momento de ingreso al recinto, El Plaza ya estaba convertido en el escenario ideal para el evento por ocurrir. Suponer que los asientos, organizados y dispuestos bajo el acuerdo que significa un pacto con el escucha, estaban ahí para evitar la algarabía, es también un equívoco, lo asientos estaban ahí para hacer algo que pocos conciertos logran en nuestra acostumbrada ecuación musical en vivo. Colocar de entrada, al escucha, precisamente en ese papel. Estás aquí para escuchar, y aunque tu experiencia pueda ser tan propia como te apetezca, estás aquí para escuchar, no lo olvides.
Entonces comenzamos. Bajo el encuadre de su más reciente lanzamiento discográfico, DCD inaugura su presentación con "Children of the Sun", la misma canción que abre Anastasis, y la pieza cuyo ritmo responde a una obviedad: estamos tratando de quebrar el espacio, porque de eso trata un concierto. Escuchamos "Rakim", se escucha un pequeño murmullo de emoción, pero el ambiente es demasiado exhaustivo y prominente como para permitir a las personas estallar en alaridos. Esas emociones se guardan, porque la tensión consiste en el uso que un artista haga del espacio que lo rodea.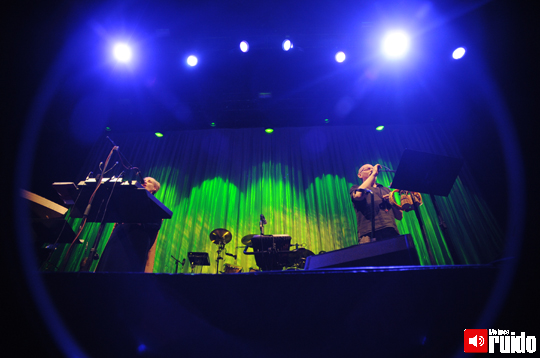 DCD tiene algo de diabólico, algo de angelical, algo de Sumatra, un poco de este lado de oriente y otro tanto de diversas influencias cuya mezcla es supremamente exitosa. Incluso podríamos afirmar que DCD son mucho mejores en vivo de lo que jamás lo serán dentro de un estudio. Su terreno es el espacio, la onda que se expande contraída personalmente por cada asistente al concierto, donde todo está retenido, consistentemente retenido, para explotar con prepotencia ante la cara de los asistentes. DCD tiene algo de acústica metafísica, algo de armonía mineralizada, algo de espacial y algo más de estratósfera. Eso, prácticamente el espacio entre las voces de Lisa Gerard y Brendan Perry, el que se escucha silenciosamente en "Return of the She-King" o "Nierika". Dicho espacio, el que hay entre nosotros, es donde la música sucede.