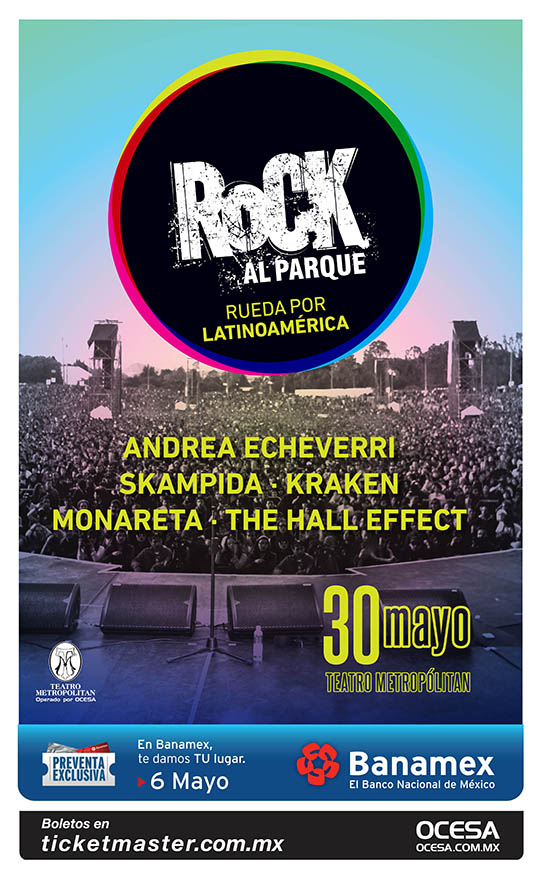 El jurado conformado por Andrés Sánchez de Ocesa México, Andrea Echeverri e Igor Lozada de la Feria Internacional de la Música de Guadalajara, dieron a conocer el nombre de las bandas que se escogieron para presentarse en el Rock al Parque, 2013.
A la convocatoria se presentaron 51 bandas, la cual fue realizada según dos categorías: bandas de trayectoria y bandas de proyección. En la primera, fueron seleccionadas: Ciegossordomudos, Kraken, Superlitio, La Derecha, Skampida y The Hall Effect. Y en la segunda: 1280 almas, El Sagrado, Sicotrópico, Colectro yMonareta.
Un criterio importante para escoger a los artistas que estarán en este festival, fue la búsqueda de un equilibrio entre los géneros musicales alternativos que se trabajan."Elegimos como un mosaico representativo de todo lo que sucede en Rock al Parque", dijo Igor Lozada.

Skampida cuenta con 13 años de trayectoria, una propuesta llena de ska, punk, klezmer, polka, rockabilly, powercore, reggae-roots y world beat. Kraken es una de las bandas más representativas del metal progresivo latinoamericano que nació en 1984 en la Ciudad de Medellín.
Monareta banda que regresa al DF luego de su participación en el festival Vive Latino de 2012 su sonido cuenta con upbeat y cumbia colombiana, pasando por el break beat y electroclash, hasta llegar al punk. El cuarteto The Hall Effect, se ha caracterizado por cantar en inglés, su propuesta ha sido bien recibida en la escena independiente de colombia y con buena rotación en los canales de videos.
La gira, que busca promover de manera internacional los diferentes procesos que se han dado en Rock al Parque, se realizará del 28 de mayo al 3 de junio en la Ciudad de México y Guadalajara. Según declaraciones del jurado, esta actividad es pionera y única para los festivales musicales latinoamericanos.

Rock al Parque: Andrea Echeverri + Skampida + Kraken + Monareta
Preferente A $500, Preferente AA $350, Preferente B $250, Balcón C $200, Preferente BB $150, Balcón D $120 y Balcón E $80